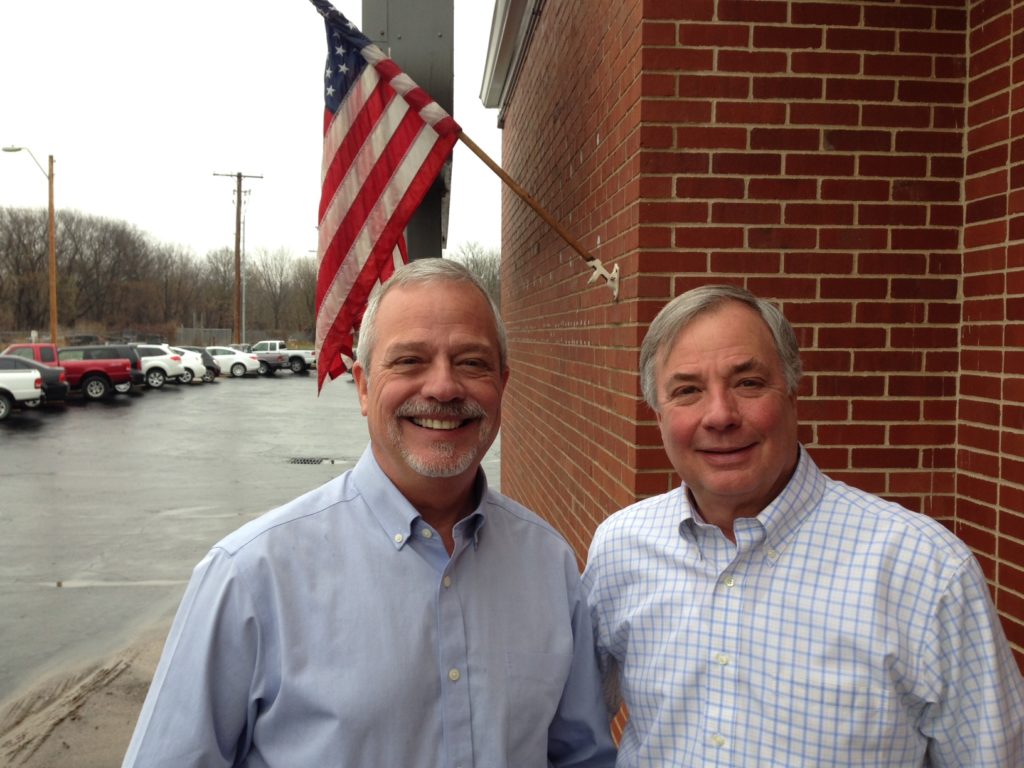 Kansas City, Mo., September 18, 2018: Family-owned Livers Bronze Co., a leading designer and manufacturer of ornamental hand railing systems, is proud to announce that Charlie Livers has been appointed president. He replaces his brother, Richard "Deuce" Livers, who has served as president since 1991 and is now retiring. Both Charlie and Deuce have worked for the Kansas City-based company for more than 40 years.
"It's been quite a ride," Deuce said. "So many changes that have taken place over these past 40 years – from moving our headquarters and manufacturing facilities to the significant advancements that we've made in technology – it's amazing to see how much progress we've made."
Two years ago, Livers Bronze marked its 70th anniversary. Today, Deuce and Charlie – along with their sister, Brett Walter, and brother, Al Livers – represent the 3rd generation of the Livers family at the helm of the business. "It's such an exciting time for our company as we continue to grow and introduce new products," Charlie said. "I look forward to following in my brother's footsteps and taking our business to the next level." Charlie also pointed out that the combined years of industry experience among the Livers Bronze employee base totals more than 1,000 years. "It's a privilege to have the opportunity to lead such an incredibly talented group of people."
Located in the Blue River Business Park bordering Swope Park, Livers Bronze operates inside a 120,000 square-foot facility specially designed for custom railing and metal fabrication. In fact, Livers Bronze is one of the few companies left in the United States to manufacture hand railings from the initial design to engineering and final installation. The company takes a great deal of pride in its "Made in the USA" heritage, as well as its presence in the Kansas City community. The innovative and distinctive work by Livers Bronze is prominently displayed in a number of
Kansas City locations, including Municipal Auditorium, the Nelson Atkins Museum of Art, the University of Kansas Medical Center, Children's Mercy Hospital, Two Light Kansas City, Valencia Place, the Buck O'Neil Research and Education Center, and the new corporate headquarters offices for Burns & McDonnell and Dairy Farmers of America.
"We love being a part of the vibrant Kansas City community and are grateful that we have the opportunity to showcase our products in a variety of local settings," Charlie said.
About Livers Bronze
Livers Bronze Co., headquartered in Kansas City, Mo., is the number one choice of renowned architects nationwide for decorative glass and metal railing systems. The company's designs are legendary for their distinctive look, precision quality craftsmanship and enduring strength.
Livers Bronze stunning hand railing systems can be found in museums, libraries, corporate offices, airports, schools, college campuses and theatres nationwide. Unlike the majority of U.S.-based manufacturers today, Livers Bronze is a one-stop company; providing full design, engineering and installation services. And, it's one of the few companies left in the United States that still offers products manufactured in bronze.