If you only care how commercial handrails look, it'd be a lot easier to choose the right materials to create them. However commercial handrails must be safe and functional on top of eye catching. Let handrail use, environmental conditions, location, load requirements and view help guide you to choose the right materials for commercial handrails. Commercial railings that don't withstand use and time will disappoint users and clients.
Before you spec commercial handrailing materials, consider the following:
Where and how the commercial handrails will be used.
Steel and stainless steel are popular commercial handrail materials thanks to checking all the boxes for form, functionality and price. Aesthetically, these materials match well with several styles, especially modern and traditional.
Commercial handrails made from steel and stainless steel are known for their longevity and durability. Consider the wear and tear the commercial handrails will experience. Here are a few examples, ranking low to high…
Steel for exterior commercial handrails.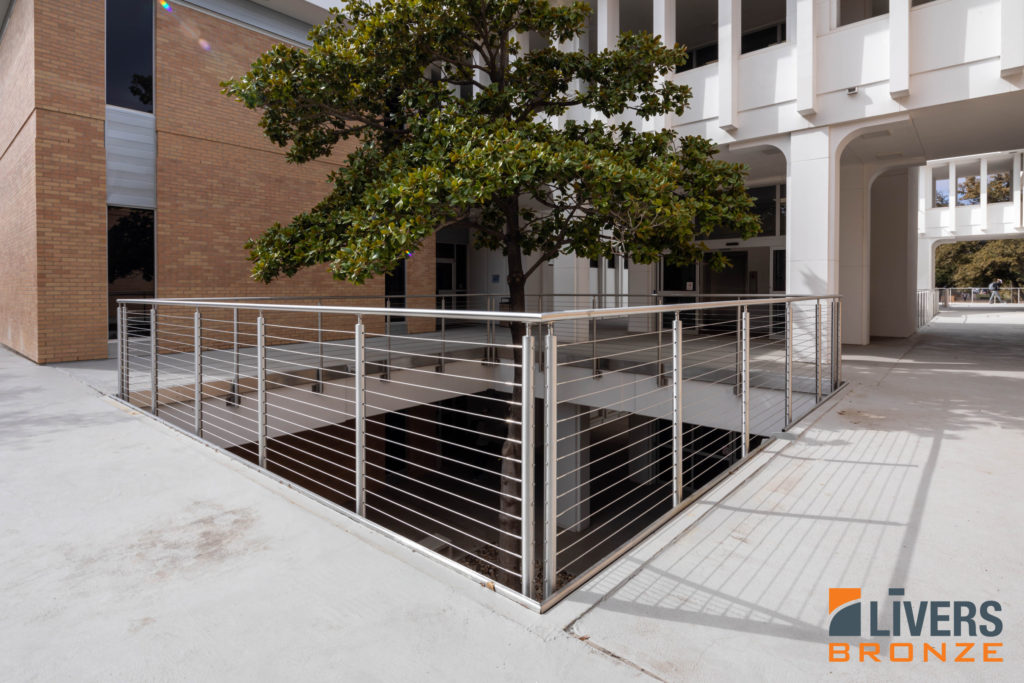 Carbon steel: lower cost with higher risk of corrosion.
304-grade stainless steel: mid-priced with better corrosion resistance, but vulnerable in harsh environments and needs periodic maintenance.
316-grade stainless steel: high corrosion resistance, stands up to harsh environments but comes with a higher cost.
Steel for interior commercial handrails.
Carbon steel: lower cost, suitable for lesser-used railings since it's prone to scratches and nicks.
304-grade stainless steel: low maintenance and stands up to high traffic wear and tear, saving money in the long run.
Environmental factors will affect commercial handrails.
Whether the commercial handrails will be installed indoors or outdoors determines the environmental factors that will have an impact on the railing.
Typically, indoor railings experience more traffic, requiring a tougher railing material. And, outdoor railing material should be able to withstand the local elements, such as temperature ranges, water exposure (rain, snow, ice), wind load and salinity level. The harsher the environment and the higher the use, the stronger railing material required. Meaning, carbon steel and 304-grade stainless steel might not be appropriate for commercial handrails in some regions.
The public can be tough on commercial handrails.
A performance theater's commercial handrails won't be as banged up as those installed at a sports arena. Handrails installed in a private building will not have the risk of vandalism as those in a public space.
Lights on commercial handrails are more often vandalized, which is why architects suggest using our Illume Linear and Puck commercial handrail systems. Lights are fully integrated in the railing and recessed into the rails, protecting them.
Rougher usage will require a strong material, which takes aluminum out of consideration (for the most part). Stainless steel commercial handrails are a wise option and can save money in replacement and maintenance later.
How much load must the commercial handrailing withstand? Superman isn't called the Man of Steel for nothing. Steel and stainless steel handrailing will withstand more weight and is the material of choice for commercial railings with higher load requirements. However, if budget can't handle the extra financial load of steel, aluminum is an option. Aluminum commercial handrails can be reinforced with inserts and used in shorter spans to help increase its load capacity.
Adding illumination and energy efficiency to commercial handrails.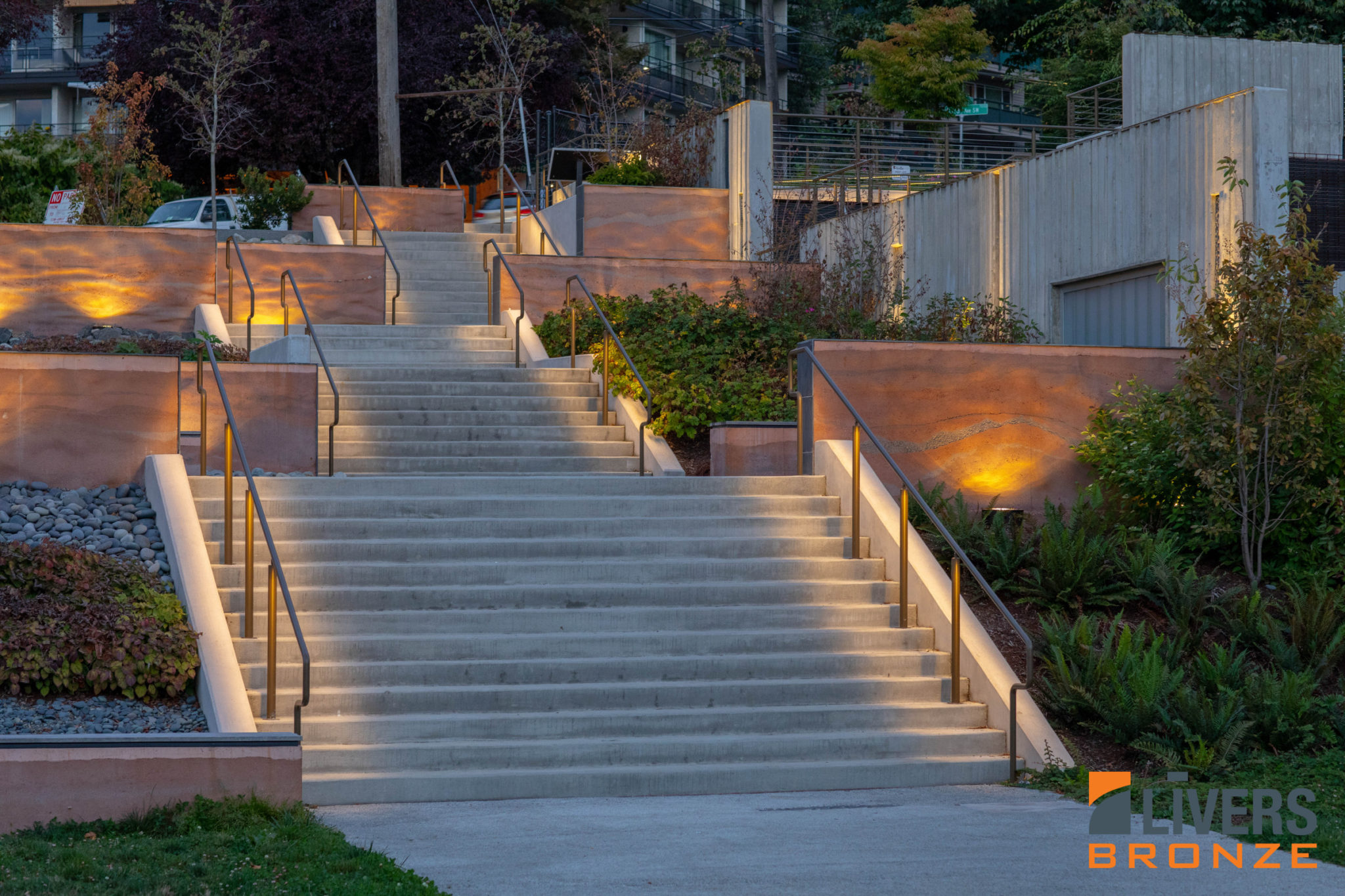 Commercial architects are using Livers Bronze LED illuminated exterior and interior commercial handrails to put an exclamation mark on their designs. It's no wonder considering the benefits LED lighting brings not only to the design aspect, but also energy efficiency and safety.
When working with glass and metal exterior or interior commercial handrails, architects are replacing traditional fluorescent, incandescent or halogen fixtures with LED-integrated handrails as an eye-catching alternative. LED makes the most sense for energy saving solutions and improved safety features without sacrificing aesthetics.
Livers Bronze LED illuminated commercial handrails consume far less energy than traditional lighting, which reduces utility costs. LEDs emit more light per watt and burn ten times longer than fluorescent bulbs and last up to 30 times longer than halogen bulbs. This cuts down on expensive bulb replacing and frequent maintenance.
LEDs outperform traditional lighting with reduced noise and heat output. Since LEDs minimize heat build-up, they are the lighting choice for commercial handrail systems with recessed lighting.
LED lit commercial handrails can eliminate the need for additional lighting.  
Commercial handrail with LED lighting eliminates the need for ancillary lighting because LEDs are placed exactly where they need to improve public safety. LED lights are manufactured with solid-state components and contain no filament or mercury.
LEDs reflect brightly on walking surfaces without adding ambient light like other lights do, which is important in museums, theaters, and such.
Need more advice on selecting commercial handrail materials?
Just ask. Livers Bronze has been building commercial handrails since 1946. Cost, function, design and installation are all parts of Livers Bronze handrailing systems. We manufacture all commercial handrailing in-house, so our team has the expertise to help you select the materials best suited for your project.